Download our full catalog
Products/Water Pumps/High Pressure Water Pump 8x6"
High Pressure Water Pump 8x6"
8" to 6" Reduction Nozzles - Opened or Closed Impellers
Adaptable to your Service
High Pressure Water Pump. Robust and low maintenance trestle. Pump housing combined with our well designed impeller provides high delivery pressure with optimum flow rate.
*The informed value is refered to the price list defined for cash for individual sales, available for pick-up at our factory (no freight included). For special deals, multiple product quotes on the same order that includes shipping, different terms for payment, or exports, you must contact the sales department to receive the supplementary information.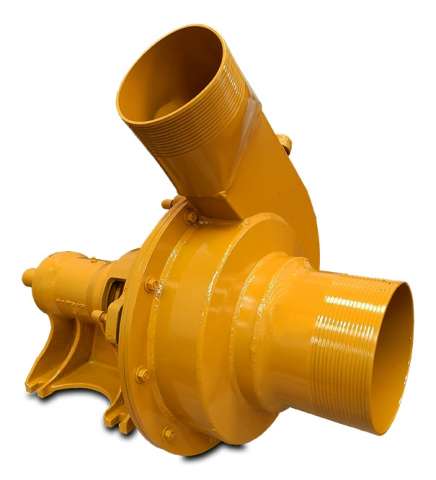 Operation Specifications

Technical description

Images
HIGH PRESSURE WATER PUMP 8X6 INCHES
ENGINE ROTATION
MINIMUM ENGINE POWER
ESTIMATED YIELD FLOW
SUCTION HEIGHT
OUTFLOW HEIGHT
1500 rpm
120 CV
250 m³/h
5 mts
25 mts
1300 rpm
73 CV
220 m³/h
5 mts
22 mts
1100 rpm
65 CV
180 m³/h
3 mts
15 mts
Technical description
Application: Pump line for clean water movement. With proper motorization, it achieves considerable delivery distances while maintaining a good pressure level. This pump is frequently used in agro-industry to move liquids quickly and efficiently; Ideal for crop irrigation boost, fish farm maintenance, well drilling support, industrial wash nozzle boost and many others.
Open or closed impeller acquisition options. In the open impeller option, the Brazmix High Pressure Water Pump supports water with up to 10% solids within 0.5mm. In the closed impeller option, it is not recommended to admit any solids in operation in view of the delivery pressure gain and internal impeller bowl wear.
Easel made of cast iron, with the same quality and resistance of Brazmix Dredging Pump Line, with shielded bearings and robust shaft for a low maintenance index. Pump plate and impeller made of sheet steel, with a shape that favors its optimum performance and pressure x flow ratio.
Approximate Weight: 3x2" Pump - 57KG / 4x3" Pump - 57KG / 5x4" Pump - 106KG / 6x4" Pump - 108KG / 6x5" Pump 120KG / 8x6" Pump - 123KG. Reported weights may vary without notice. Brazmix high pressure water pumps have fixed nozzles ideal for direct coupling of hoses and hose clamps. Our pumps are not self priming, but have a priming filler cap, which helps in filling the pump and suction pipe with water prior to the begining of operation. To perform the priming process properly, it is necessary to use a foot valve device at the end of the suction pipe.
The parts that make up this high pressure pump are; 1- Housing / Bulge, 2- Impeller, 3- Rubber Gasket, 4- Flange, 5- Sealing Rings, 6- Gasket Tightening Flange, 7- Trestle / Bearing, 8- Bearing Caps, 9- Bolts and Nuts, 10- Graphite gasket, 11- Shaft, 12- Bearings, 13- cotter.
The installation of the motorization and coupling to use this pump is under the responsibility of the customer who purchases it, and should consult the operating performance information (RPM, Flow and Total Gauge Heights) to ensure proper operation of the assembly.